WHO WE ARE
Black Creek named for the small creek which crosses our property in Hinchinbrooke, Montérégie West.
The farm is the result of years of work coming from the multiple talents and shared passion of the owners. In this naturally beautiful setting, Denis and Jane live harmoniously with nature alongside their faithful companions, their many dogs and cats who are free to roam the property.
Black Creek Farm is a small cider house and a maple sugar shack with 4000 taps, both artisanal. We specialize in the crafting of cider made in the English tradition from apple varieties rarely seen here in Quebec. The orchard, which to date consists of more than 1,000 apple trees, including nearly 40 varieties of apples, uses environmentally friendly growing methods and promotes the presence of natural pollinators and useful insects which creates a real oasis for the many birds and small animals inhabiting our lands and forests.
In addition to our trees we let flowers, herbs and fruits grow wild in the 100-acre fields. In summer our fields are full of berries, including wild red and black raspberries, blackberries and black chokeberry which helps inspire our imagination in creating our flavours.
Come and spend a relaxing time at Black Creek Farm to discover our unique products and unparalleled know-how. You can also visit the property and taste some products that will amaze you. Take the opportunity to walk around and discover the Circuit du Paysan.
APPLES AND COMPANY
In our orchards we cultivate close to forty varieties of English cider apples such as the Kingston Black, Temblett's Bitter and Dabinett to name a few.
The types of English cider apples and ancestral varieties rarely grown in Quebec, allows the production of ciders in the English style which are totally different and naturally delicious.
They are usually small in size and rich in tannins, unlike table apples that are eaten raw or cooking apples used for example in apple sauce.
THE STORY AND HISTORY OF BLACK CREEK FARM
Jalon 1
Acquisition of Black Creek Farm
Jalon 2
Certification from Peter Mitchell Cider Academy, an internationally recognized authority in cider & perry production
Jalon 3
The planting of a second orchard
Jalon 4
First cider under the Black Creek label: the BRUT (DRY)
Jalon 5
Black Creek Dry: bronze medal winner in the Great Lakes International Cider and Perry Competition
Jalon 6
Black Creek Maple Cider: silver medal winner in the Great Lakes International Cider and Perry Competition
Jalon 7
The launch of BülDog alcoholic beverage made from maple syrup and wild fruit
Circuit du Paysan
Walk | Tour | Tasting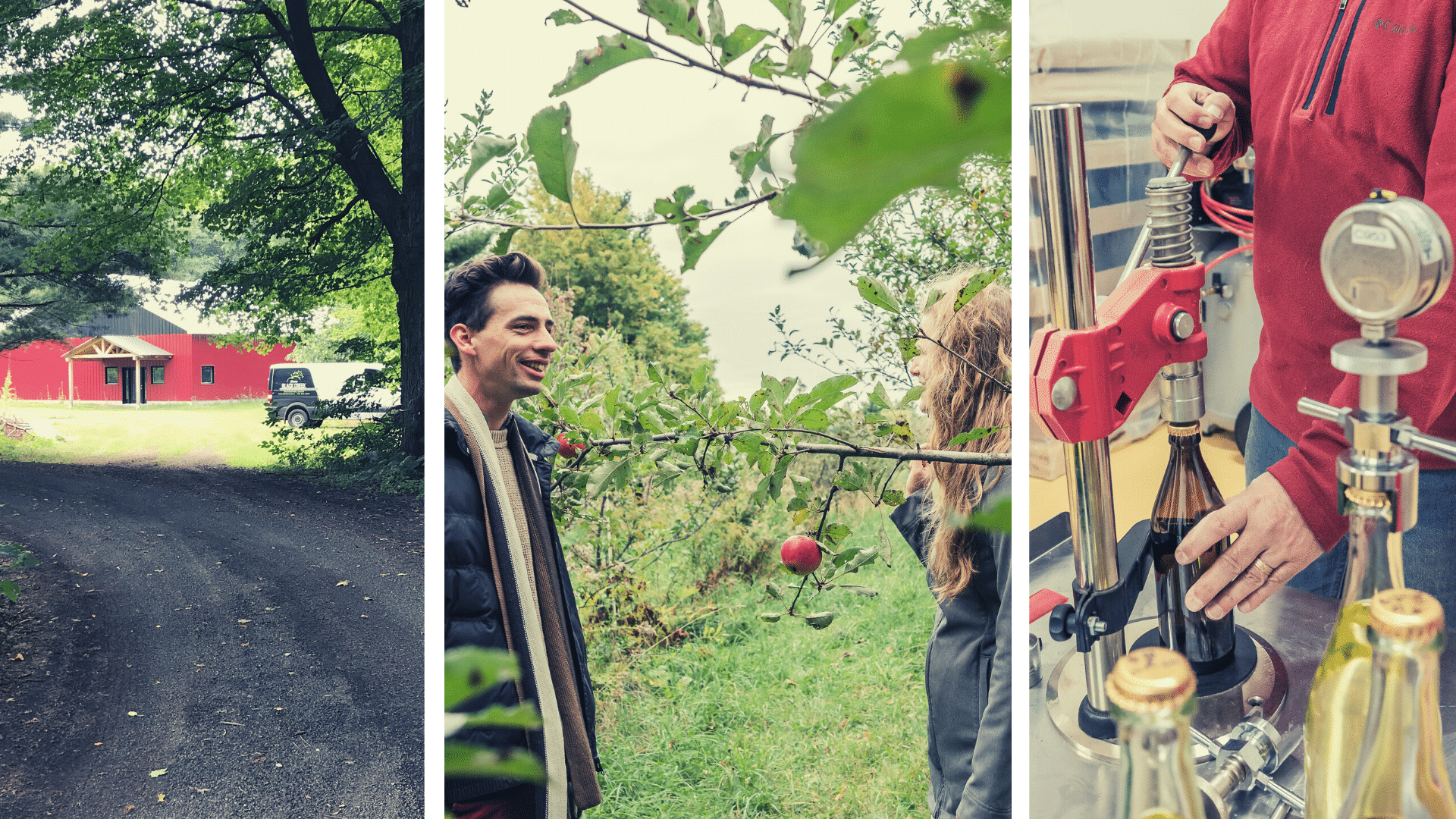 Ce projet a été financé en partie par le ministère de l'Agriculture, des Pêcheries et de l'Alimentation, dans le cadre des programmes Proximité et Territoires : relève, entrepreneuriat et entreprises de petite taille.